American women artists, especially those working before 1945, had to negotiate societal expectations that largely restricted women to the domestic sphere with their drive to be recognized as professionals.  These artists often faced difficult choices, sacrificing in their personal lives or professional options.  Regardless, most fell into obscurity with their death, no matter the successes they achieved while living.
I am joining a handful of other art historians who want to bring these careers back into the dialogue about American art.  The "Finding Her Way" series focuses on one painting by each of seven artists, who collectively paint a picture of American attitudes and gradually changing mores.  My hope is to draw renewed attention to these talented artists and heighten awareness about the challenges that women artists continue to face.
Special thanks to  Art Times Journal for supporting this vision and publishing the series of essays.
Elizabeth Okie Paxton and The Breakfast Tray, c.1910                                                Private Collection                                                                                                              Art Times Journal Summer 2014      
Lilly Martin Spencer and War Spirit at Home, 1866                                                  Purchase 1944 Wallace M. Scudder Bequest Fund. Collection of the Newark Museum        Art Times Journal Fall 2014
Alice Barber Stephens, "The Woman in Business." Cover of Ladies' Home Journal (September 1897). Courtesy of Rutgers University.                                                           Art Times Journal Winter 2014/2015

Marie Danforth Page, Calvin Gates Page, 1909, Private Collection                                    Art Times Journal Spring 2015

Theresa F. Bernstein, In the Elevated, 1916 Oil on canvas,
30 x 40 in. The Fine Arts Museums of San Francisco, Museum purchase,                 American Art Trust Fund, 2011.2                                                                                      Art Times Journal Summer 2015
Florine Stettheimer, Picnic at Bedford Hills, 1918,
Pennsylvania Academy of the Fine Arts
Art Times Journal Fall 2015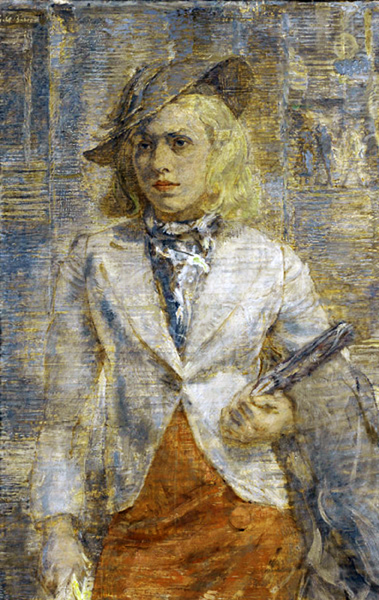 Isabel Bishop, "Young Woman", 1937
Pennsylvania Academy of Fine Arts
featured in
Isabel Bishop's New Vision: Social Mobility Beyond the Separate Spheres
Art Times Journal, Winter 2015